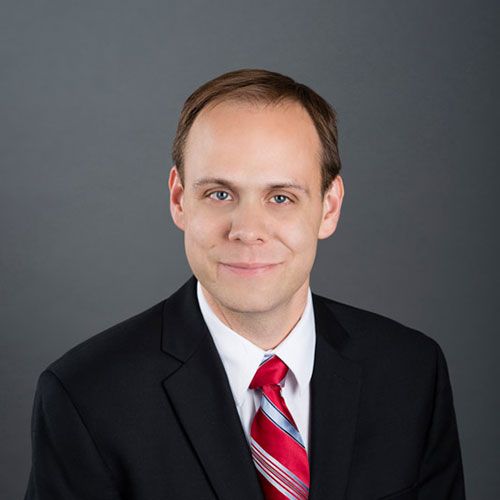 S. Reid Long, Ph.D., J.D.
Patent Attorney - Associate
S. Reid Long, Ph.D. joined Parker Highlander after finishing a graduate program in chemistry at The University of Texas at Austin. Before starting his graduate studies, Reid received a dual bachelor's degree from The University of Texas at Austin with a B.S. in Chemistry and a B.A. in Plan II. During his graduate program, Reid worked in the area of molecular recognition looking at the driving forces behind molecular attractions and the development of functional molecules assemblies. As an organic chemist, Reid has extensive experience synthesizing and characterizing small molecules. Since joining Parker Highlander, Reid has worked on the drafting and prosecution of patents focus on numerous different areas of chemistry including small molecule therapeutics, diagnostics and polymers. Reid has also worked on patentability and freedom to operate analysis and has experience managing portfolios of patent families.
Areas of Concentration
Intellectual Property and Technology
Pharmaceutical and Medical Technology
Polymers and Materials
Experience
Prior to joining Parker Highlander, Reid received his Ph.D. at The University of Texas at Austin in Chemistry. His research focused on organic and bioorganic chemistry where he worked on molecular recognition between different molecules and the development of diagnostics for chemical properties. During graduate school, Reid authored two scientific manuscripts on his research.
Professional Activities & Memberships
American Chemical Society (ACS) (2007 – present)
American Association for the Advancement of Science (AAAS) (2009 – present)
Vice President of the Graduate Student Assembly (Spring 2011-Spring 2012)
Abbot of the Friar Society (Spring 2012)
Member of the ad hoc committee for the selection of the Dean of the College of Natural Science (Summer 2011-Spring 2012)
Publications
You, L., Long, S. Reid, Lynch, Vincent, and Anslyn, Eric V., Dynamic Multicomponent Hemiaminal Assembly. Chem.–Eur. J., 2011. 17: p. 11017-11023.
Bonizzoni, M., Long, S. Reid, Rainwater, J. Chance, and Anslyn, Eric V., PAMAM Dendrimer-Induced Aggregation of 5(6)-Carboxyfluorescein. J. Org. Chem., 2012. 77: p. 1258-1266.
Arneson, B.T., Long, S. Reid, Stewart, Kent K. and Lagowski, J.J. The fuge tube diode array spectrophotometer. J. Chem. Educ., 2008. 85: p. 1663-1666.
Long, S.R., Browning, S.R. and Lagowski, J.J., The electrochemical synthesis of transition-metal acetylacetonates. J. Chem. Educ., 2008. 85: p. 1429-1431.
Long, S.R. and Lagowski, J.J., The Direct Electrochemical Synthesis of Transition Metal Acetylacetonates. Synth. React. Inorg., Met.-Org., Nano-Met. Chem., 2007. 37: p. 813-815.
Educational Background
2012 – Ph.D., Chemistry, The University of Texas at Austin, Austin, TX
2007 – B.S., Chemistry, The University of Texas at Austin, Austin, TX
2007 – B.A., Plan II, The University of Texas at Austin, Austin, TX